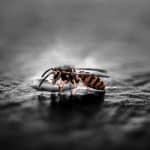 Just one queen wasp can easily lay over 100 eggs at a time. One wasp can set up your home for an infestation in just a couple of days. When this happens, you might not be able to sleep until you figure out a wasp removal solution.
While several types of pest control can be handled without the need for professional help, wasps are a different story.  Watch this video of a DIY wasp removal attempt resulting in 4 nasty stings!
Once they've found their ideal nesting place, wasps get very defensive. They will even have their own hive lay eggs in a nearby hive to take it over.
Solving common household issues on your own is important, cost-effective, and empowering. However, you should know your limits. Here are four reasons why wasp removal needs to be left to professionals.
1. Wasps Are Easily Agitated
Wasps aren't as friendly or as cute as a bumblebee. They don't behave with evasive measures.
Continue reading 4 Reasons Professional Wasp Removal Is Necessary at Pest Control Service – Customer's Choice.